Cardboard Carnage team members, Gregg & Candace Bolinger, went on a little field trip over the Fourth of July holiday. While visiting family in Oklahoma, they decided to stay an extra day in order to check out the tabletop scene in Tulsa.
There were four stops on this tour, and they were visited in order of proximity; not based on order of preference. Also, we should mention that none of these stores had advance notice of our visits; everything was off the cuff. Funny enough, each store had it's own personality and specialty, as though they were each opened with a different vision in mind and the owners were able to chisel out their own niche in the community. We could see visiting each of these stores on a regular basis, but each for different reasons.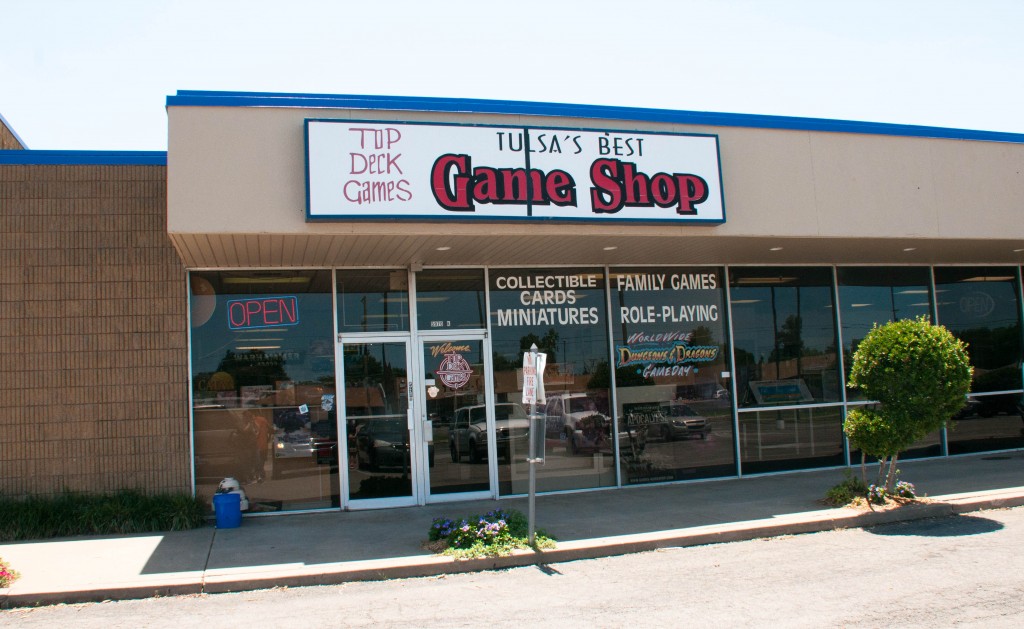 Tabletop Stop #1: Top Deck Games – Tulsa's Best Game Shop
When Team Cardboard Carnage entered the store, they were greeted with a low key, "Hello." They were browsing the board games for less than 5 minutes when the owner came up and started a conversation. Immediately, Gregg and Candace started talking animatedly about their love for board games, what they play in Wichita, and the purpose/creation behind Cardboard Carnage. It was great because the Top Deck customers also wanted to get in on this conversation. They were talking Smash Up, Rivet Wars, King of Tokyo, Star Wars X-Wing, Eclipse, Sails of Glory, and many, many others. The owner and his customers were knowledgeable about games and were excited to talk about them!
The owner, Eddie Gist, said that Top Deck Games has been around since 1998. Eddie has been the manager since 2001 and the owner since 2006. His store is the premier location for the latest in Dungeons & Dragons releases. They are more of a "miniatures store" with War Hammer 40K lining the walls, but they carry a selection of board games, and also boast having the lowest priced Magic booster packs in town.
Candace was reading the back of a game called Sherlock Holmes. Because of her never-ending fascination with mysteries, it most definitely looked like something she'd like to play. Eddie mentioned that it was an updated version of the game that was originally released over ten years ago, and that some brand new cases would be released as an expansion in the near future. He even went so far as to pull out and open up his original copy of the game so that she could take a look! Candace appreciated being able to see what the game components looked like, and also appreciated the time and effort that Eddie was willing to take to make his customer happy.
Once Gregg started chatting about his Star Wars X-Wing collection, Eddie showed him the Tantive IV making sure to let him know that it was on sale for the holiday!
While Top Deck Games may be known best for it's miniatures and Magic booster packs, the owner does try to accommodate a variety of tabletop gamers by running different game events nightly. Team Cardboard Carnage felt as though this game store exuded a welcoming, friendly vibe. The owner, and his customers, knew a lot about games and the store's inventory. They recommended games that aren't overly commercialized and were willing to go the extra mile to make a sale. They were willing to just sit and talk games, which was highly valued by Team Cardboard Carnage.
Tabletop Stop #2: Wizards Asylum Comics & Games
Team Cardboard Carnage was really excited to visit Wizards Asylum of Tulsa because the store's "sister" location lives right here in Wichita! Gregg and Candace were taken aback by the size of the Tulsa store. The board game selection was substantial, taking a long while to browse through it. It was like being a kid in a candy store, or well, really, it was like being a kid in a game store; picking up board games, reading the synopsis on the back, adding titles to the Christmas wish lists…! There was also a sizable selection of miniatures for games like War Hammer and Star Wars X-Wing, as well as a vast spread of comic books. The other half of the store housed rows and rows of tables for tournaments and playing games.
Our team approached the employees, who remained behind the counter, in order to introduce themselves, give a brief rundown of the FLGS Field Trip in Tulsa and let the employees know that there would be an article about this field trip on our blog. While pleasant enough, the owner did not display as much enthusiasm for our presence as the previous store owner did, and pretty much left us to ourselves… though he did answer some questions for the team when asked.
Jimmy Jarman started out opening a game shop in Muskogee. After feeling as though he'd gathered all of the possible customers in Muskogee, he moved his store to Broken Arrow to expand the store's clientele, and then finally ended up following his market to Tulsa where the store has been thriving. His store will celebrate being open for 25 years come January 2015. Jimmy's store is known best for Magic tournaments, and for it's offering of graphic novels; possessing the largest selection in town.
Team Cardboard Carnage walked out of the store feeling slightly disappointed… There is no doubt that the store looks amazing with it's modern interior, which houses such an extensive collection of tabletop paraphernalia, and had the LARGEST selection of board games seen by our team that day, but it was difficult to get past the feeling that the customer service was lacking, that there wasn't a proper welcome for our team members as customers who were potentially looking to purchase a game, or as visitors who were interested in learning more about the store.
Tabletop Stop #3: The Covenant Store
Talk about a humbling experience, Team Cardboard Carnage walked into the Covenant Store where our brand (from our t-shirts) was instantly recognized by one of the store owners, Zach. He was pleased to meet one of Cardboard Carnage's creators, Gregg, just as our team members were pleased to make his acquaintance! Plus, both owners, Zach and Steven remembered our team member, Todd, from a recent Netrunner Tournament in which Todd participated at the Covenant Store.
An instant sense of hospitality hit both Gregg and Candace in the faces as Steven sat down at one of the game tables to have an impromptu conversation. There was immediate chatter about how well their store has been doing, known as "the weird place" to play games in Tulsa and as the game store with more of a "club house" feel to it. Steven told us about how he and Zach started their store wanting to prove to themselves, to their community, and to the world that there's a high enough demand for a game store that is different, for a better tabletop experience, for a real live social interaction. They want to encourage new players, who may not even realize that they like board games yet, to enter the store and give it a try. These guys admirably want to change the way that tabletop gaming is viewed by society by giving board gaming more respect and moving away from that negative "nerd" stigma associated with it.
The Covenant Store is laid out for people to learn how to play the featured games and for them to be able to participate in tournaments. Zach and Steven are always looking for the most innovative, coolest thing to play; they want to be on the cutting edge, but instead of overwhelming their customers with too many choices, they have tried to choose the cream of the crop to showcase in their store and have become specialists in the rules of play for those games. So, while their store doesn't carry a ton of inventory, they do carry an exclusive line of acrylic tokens for Netrunner, Star Wars LCG, and Star Wars X-Wing that bear the Covenant Store logo, which is really cool.
With well wishes given between both teams, Team Cardboard Carnage headed out of the Covenant Store feeling inspired by Team Covenant! This store may not be the place that you visit if you're looking for merchandise to purchase, but it would definitely be the place that you go to meet with your friends to play a board game, sign up for an LCG tournament, or learn how to play one or all of the featured games.
Tabletop Stop #4: Alien Games
The last stop for Team Cardboard Carnage was Alien Games, located in Jenks, OK, a suburb of Tulsa. Gregg and Candace walked into the angled brick building to find themselves inside of a brightly lit, rectangular room FULL of tables. Lining one of the walls, were some board games and an abundance of gaming cards. And behind the counter, was friendly employee, Zach, who talked to us about the store.
Unfortunately, a fire had devastated the original store…. destroying not only the inventory, which included an extensive, customized War Hammer collection, but also damaged the building beyond repair. The supportive City of Jenks came together and helped Alien Games move to and start up this new location!
Alien games currently caters to the hardcore Magic and Yugioh card game fans, which explains the inventory that lines the back wall and is stock piled in the glass cases. A couple of Magic customers were in the store, checking out the card selection, and happened to notice our team t-shirts asking, "What is Cardboard Carnage?" Our team was very pleased with all of the buzz that the t-shirts were drumming up on this field trip!
Despite the ever popular presence of Magic and Yugioh customers in the store however, Alien Games also hosts the Alien Games Tabletop Club, which brings a large group of gamers together regularly to play board games. Sometimes, the group members will set up an Arkham Horror themed game that may take them ALL day to play! This group has a large following that takes up the majority of the tables in the store on Monday nights.
The Cardboard Carnage Team felt as though Alien Games was well represented by employee, Zach. He explained the store's dynamic and made sure to include information about the tabletop club once he realized that our team members were passionate about board gaming. It's important to know who your hard core customers are and what they need, but it's also vital to be able to recognize and satisfy other customers that walk into your store, which Zach did really well.
The FLGS Field Trip in Tulsa was filled with talk of everything tabletop! We were able to visit the game shops of Tulsa, chat with the owners and employees, browse through an expanse of board games, learn about the game shop culture in Tulsa, and even spread the word about our own endeavors with Cardboard Carnage in Wichita. It was interesting to see how each of the game shops were similar and how each was different. They each provide unique incentives for their customers to return whether it be personable staff or knowledgable staff, whether it be a huge selection of board games or a huge selection of card games, whether it be tournament driven or miniature driven, the game stores of Tulsa provided a tremendous tabletop experience!!!