Some brave adventurers came out for our latest session of Tabletop University; to test their skills at playing The Adventurers: Pyramid of Horus and The Adventurers: Temple of Chac. It was a thrill-seeking, good time full of competitive treasure collecting, lucky dice rolling, unlucky dice rolling, mummies, and falling stone blocks!
Our group of Adventurers cautiously entered the pyramid since most had never ventured into one before this night…. Some took their time investigating the rubble, sand, and crocodile pit, while others ran straight toward the idol rooms of Hededet, Thoth, Horus, Anubis, and Sobek; all of the adventurers sought to gather as many treasures as they could carry as they attempted to steer clear of snakes, scorpions, crocodiles, mummies, AND falling rocks.
Our courageous group of players for this round included:
David Gore (shoot) played by Dominic
Rasputin (clairvoyance) played by Gregg
Maki Watanabe (reflexes) played by Katie
Abdel Wahab (linguistics) played by Levi
Jose Ardila (lock picking) played by Zach
Delroy Chartier (stamina) played by Kevin
Each character had a special ability that they were able to use on their turn. Some abilities allowed for the adventurer to dodge a snake, scorpion, or crocodile thus saving them from taking the damage of a sting or a bite. Other abilities allowed for a character to carry extra items, or take a peek at which stone block would be falling next, or to change a dice roll. All of these skills were put to use on a regular basis throughout the entirety of the game.
There were some daunting situations in which an adventurer had to decide just how much to risk in order to obtain idols and treasures. In these hallways, mummies roam back and forth. If anyone comes into contact with a mummy, they would receive a "bite" which would add to their Load Level (the number of items carried) and the higher the load level, the more difficult it is to move. Also, each time a major idol was claimed, the adventurer who claimed it would lose the ability to use one of the dice, which could possibly hinder their future movements around the board, as well as, when it comes time to leave the pyramid.
When it came to dice, Delroy (Kevin) rolled really, really well during the ENTIRE game! He wanted to claim an idol and needed to roll the sequence 1-2-3-4-5; each attempt requires one action… but Kevin rolled the necessary sequence in ONE ROLL!!! He did the exact same thing with a second idol later in the game. Wowza!
Would anyone like to know why using the special ability of clairvoyance to forsee which stone block will be falling next is a good idea? Because then, if you get caught between a rock and a hard place, hahaha…. you may be able to prevent a block from hitting/injuring you, OR you could prevent a stone from blocking your path OR you could save the day by preventing a stone from blocking off the exit of the pyramid. Rasputin is the clairvoyant character, so he is able to secretly look at one stone block (once per turn) and decide where it will fall. There are some special clairvoyance cards hidden inside the rubble deck, so it is possible for other adventurers to potentially play clairvoyant for a round.
Now, depending on where your character stands on the board, it may happen that a clairvoyant may choose to purposely hit a fellow adventurer with a stone or choose to seal the rest of the adventurers into the pyramid before making his own escape. Thankfully, no one tried sealing their colleagues away inside of the pyramid during this game, however, several adventurers did get hit by falling stones which worked against their load level, limiting their movements.
Once the stone blocks start to really populate on the board, it would be wise for the adventurers to take notice and begin a speedy exit strategy. IF the stone blocks fall and end up obstructing the pyramid's one-and-only exit, then the adventurers become sealed inside the pyramid and everyone loses…. The only way to win this game is to exit the pyramid AND have the most accumulated treasure points.
Maki (Katie) was the last adventurer to escape the pyramid alive! She was busy dodging mummies and trying to obtain a coveted idol that it took her a bit longer to venture back. She was making a run for it at the end!
Our winner for The Adventurers: Pyramid of Horus was in fact, our resident clairvoyant, Rasputin (Gregg)! Congrats!
Our second game of the night was The Adventurers: Temple of Chac; it's a bit more complicated, a bit more intense, a bit more terrifying with moving walls, an extremely challenging lava room, a winding river with perilous waterfall, a rickety bridge that repeatedly loses wooden slats, and don't forget the HUGE, rolling boulder….
Our courageous Adventurers for this game included:
Martin Fletcher (sprint) played by Sam
Arely Tamay (linguistics) played by myself
Len Tso Yau (lockpicking) played by Gregg
Professor Trevor Griffith (linguistics) played by Levi
Vincent Gerondeau (leap) played by Dominic
This group was eager to get exploring now that some of the gamers had a pyramid exploration under their belts! A few of the adventurers crept through the temple's entrance trying to decipher hieroglyphics etched into the wall; those glyphs held the secret to which of the tiles located in the lava room were indeed traps that would lead to certain death. Other adventurers chose to immediately start gathering treasures, as they were confidant in their special linguistic abilities to expertly read glyphs once they actually arrived in the lava room.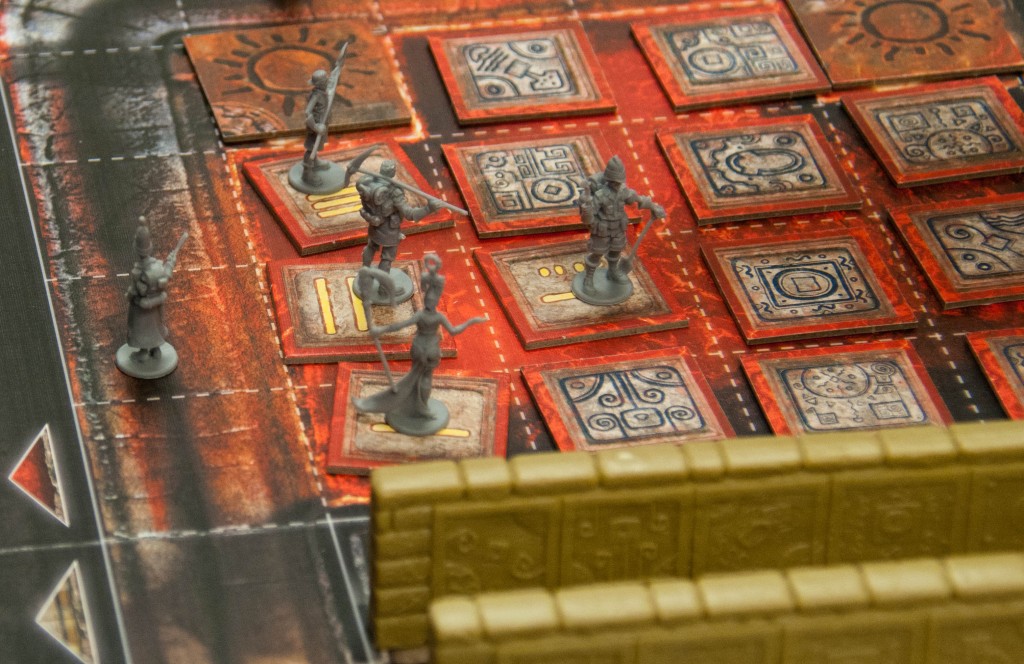 Once everyone made it safely out of the temple's entrance, without being flattened by the moving walls, the majority of the adventurers decided to try their hands at traversing the extremely dangerous lava room. If you were able to use linguistics to peek at the glyph tiles, then you were able to safely make progress around the room. If you tried to memorize glyphs in the temple's entrance, then you had to rely on your memory to guide you safely to the appropriate tiles. I was personally nervous for a couple of teammates who were relying on their memories, but they proved to be excellent at recall under pressure!
Whether an adventurer cut through the lava room gathering treasure OR took the boulder corridor (collecting jade carving treasures), they all ended up back together again… momentarily…
And, at this point, I must interrupt this report to explain that since I was participating in this game, as one of the Adventurers, I stopped photographing the game's progress after the Lava Room. I was so wrapped up in accumulating treasures and trying to stay ahead of the boulder and trying not to die in the winding river that I completely forgot about my camera for the duration. Apologies!
What happened next? Well, two adventurers, Vincent Gerondeau (Dominic) & Arely Tamay (myself) jumped into the winding river searching for even more treasures. We were being carried by the current for part of the way and ended up at the top of a perilous waterfall – where we had to roll the dice in order to see if we'd be able to exit the river safely or whether the waterfall would carry us over the edge and crush us beneath the waves. I made it out with no problems. Vincent (Dominic) almost got carried over the edge, but he discarded two treasures at the last minute to be able to climb up to safety. Both of us were happy to still be alive so we ran for the temple's exit!
Martin Fletcher (Sam) was trying to retrieve the Stone of Chac treasure, which requires a certain rolling sequence in order to extract it. After several attempts, he was successful, taking his treasure and running for the exit!
Len Tso Yau (Gregg) risked crossing the wooden bridge in order to retrieve the Golden Statue treasure, which is difficult because the bridge must be tested for solidity not once, but twice if you want to claim the Golden Statue. Several slats broke and fell under the adventurer's heavy footsteps, but he was able to quickly grab the treasure, hop off the bridge, and also run for the exit!
There was one last adventurer, who shall NOT remain nameless, ahem…. Professor Trevor Griffith (Levi) who was idling away his time hanging out in the lava room checking for any last undiscovered treasures. He inevitably had to run full speed to stay ahead of the boulder as it chased him down the corridor. The Professor almost didn't make it out of the temple alive, but his last roll of a "3" was enough to allow him to exit unharmed!
After celebrating our unlikely survival, we tallied up our individual treasures, and I, Arely Tamay had amassed the most treasure for this game!
As promised, we also had Cardboard Carnage team members, Curtis & Katie, hosting the A Game of Thrones LCG Summer League on the same night! They were able to teach/play a couple of rounds to kick off this living card game tournament. Our winner for the evening started off by battling Sam and ended up beating Katie. Congrats to new player, Eric for his accomplishment!
Anyone else who is interested in competing for some A Game of Thrones prizes is encouraged to join the skirmish for the next three Thursday evenings at Mana Vault. Check out our Events tab for details.
And, last but not least, we also had some Star Wars LCG happening as well!
The Cardboard Carnage team is pumped by all of the interest you've shown in board AND card games thus far!!! We will continue to bring fun games to teach/play with you – encourage your friends to join the fun! Have a great week and see ya next time for Alhambra!