Tabletop University was invited to Wizard's Asylum, where Store Owner, Devin Meadows, offered to teach us how to play the board game, Caverna, the Cave Farmers. If you've ever played Agricola, then you've got a head start at learning how to play it's cave farming counterpart! Caverna has been toted as the "fixed version of Agricola" by many board game players. Both games have the same designer, both are worker placement/resource management-oriented, both have lots of colorful, wooden meeples, both require some set up in order to play, both have similar mechanics and a book full of rules detailing the intricacies of those mechanics. But, this report focuses solely on our experience with Caverna and what it feels like to be a dwarf family trying to survive in the caves!
Joining us for this cave mining adventure:
Jeff – green
Sam – purple
Devin – red
Corey – as he stated, "The plain, generic color for his Genericdwarf_1 Family"
Gregg – blue
Candace – yellow because it was the closest I could get to orange
To begin with, the game looks a little overwhelming with all of the piles of brightly colored meeples lying around, an abundance of dwelling tiles lined up in a grid with plenty of text & symbols, not to mention the actual game boards (each player receives one to build their cave & farmland), and of course, there's also a community game board where you vie for your jobs each turn. All of which, Devin expertly set up!
But once the game starts rolling, then the mechanics start to flow. Each player chooses a task (which will hopefully bring them the greatest benefit presently or in the near future) and places their meeple on that task on the community job board; this is where having a strategy and a goal can be very important to playing this game because you are in competition, sometimes cutthroat, when bidding for a task! Just kidding, everyone, I never felt like my dwarven life was in any danger when placing my workers….!
Then, each player goes around a second time choosing an ever important job for their spouse. If you're unable to snag a job that you want because someone else keeps swooping in and stealing it right before your disbelieving eyes, you may place a worker on the First Player job and claim the First Player status for the next round.
Some players may go straight for farming. You must lay farming tiles before sowing the fields with grains or veggies. When the harvest happens, that food may be gathered and used to feed you and your spouse, as well as any offspring that may arrive. Offspring spend one round in infancy, only requiring one food to feed them, but unable to perform a task. In subsequent turns, the offspring operate as working adults pulling their own weight in the mines, but now also require a full meal. This is awesome sauce because it essentially gives you an extra turn(s) each round! Just be prepared to feed all of the hungry mouths because if they go unfed, then it could penalize you at the end of the game with negative victory points.
On the farmland, you may also decide to purchase animals from the marketplace, fence in your property, and build stables so that the farm animals can start breeding during the full harvests. The animals can be turned into food for your family and/or can be collected for victory points; certain upgrade tiles may reward you with extra victory points based on the number and type of animals you possess. Note: you will be penalized if you don't have at least 1 of each type of animal at the end of the game with negative victory points.
Another idea, might be to focus on mining the caves/building/furnishing your home. BTW, I still find it very bizarre that donkeys are allowed to live in the house (technically the mine shafts, but still…)! In order to focus your attention on this task, you must lay mine tiles and accumulate certain amounts of resources in order to pay for your dwellings and furnishings. You may build an extra bedroom for future offspring or build rooms that benefit you at end of game scoring with extra victory points, like the aforementioned tile that offers extra points for a collection of animals.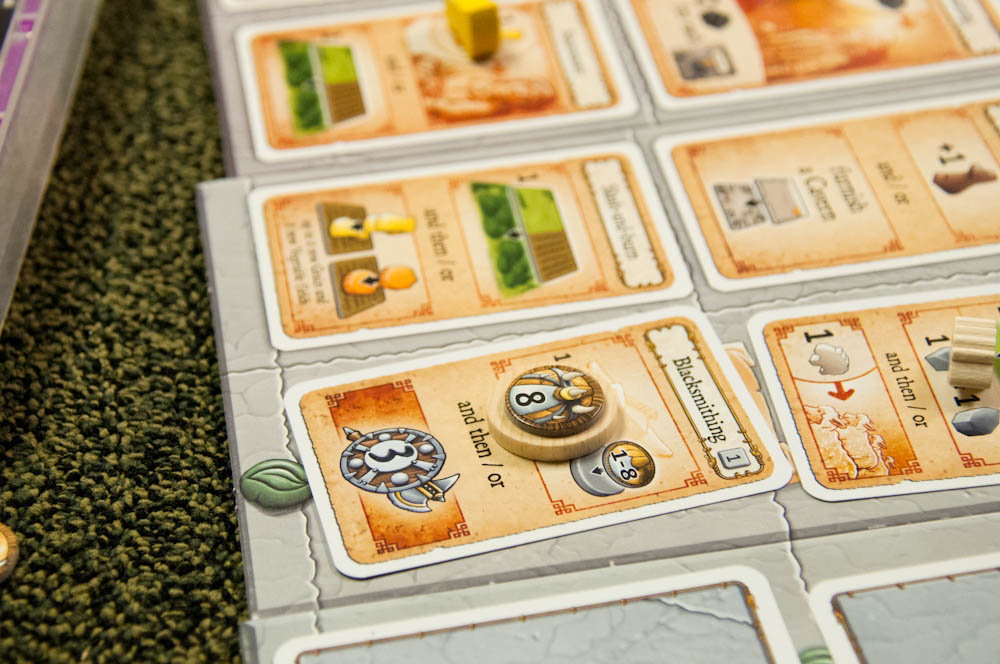 Yet another tactic, you may use ore to make weapons and level up your dwarf so that he/she can go on adventures, which basically boils down to your dwarf getting lots of extra free resources to do with what you please! I did not employ this tactic, but am thinking I'd give it a try next time. The higher your dwarf's level, the more adventures you get to go on, and the more resources you earn!
You can always go for the "little bit of everything" or "whatever happens to be convenient" approach and see if you can piece together tidbits to accumulate the most victory points! I'm sure that it can be done!
There is quite a bit going on with each player trying to place workers and reap the benefits of their labors. Someone may end up placing their dwarf on a space that you were planning on using. Bummer…. Thankfully, there's still a way that you may use that same space by "Imitating" it, paying a fee, and then taking your intended action. I ended up having to "Imitate" quite a bit as I never did acquire the First Player position.
I'm sure, that when this photo was taken, I was asking Devin yet another question about the fine, integral workings of the rules of the game. I may look puzzled and unsure, but worry not, it was all an act! I had a plan, just needed to make sure that I was following legalities. My thought process involved having a child to use for extra labor in the mines, planting grain and veggies to gather during the harvest for food, placing one of each type of animal available on my farm tiles to avoid penalties, plus purchasing a mine tile that would allow me to keep those animals on unfenced property.
I was fumbling along just fine until I realized about halfway through the game, that I WILL LOSE VICTORY POINTS FOR EACH EMPTY SPACE ON MY GAME BOARD at the end of the game…. Realizing that my plan was evolving much too slowly… I ditched it… back to the drawing board. A last attempt at saving my hind end, I purchased a mine tile that would give me victory points and food tokens for each pair of discarded ore, and I was able to use that three times each round. Then, I grabbed up as much ore from the board that I could and converted it! My opponents started to get nervous as my little pile of victory points began to grow! Unfortunately, they didn't add up to a win at the end of the day…
We had Jeff gathering up and breeding cows to use for food and to meet a requirement on a tile, plus his dwarves were leveling up and going on adventures to earn him extra goodies. Sam was mining and using rubies pretty regularly, which afforded him many niceties for his home. Corey had a TON of wood gathered, and I do mean a TON…! His dwarves were leveling up and collecting resources, but unfortunately, there were no tiles that would award Corey extra points for all of that wood he had collected… Gregg was unsure of a goal, didn't really have a plan, so he employed the "a little bit of this, a little bit of that" tactic, which ended up being a little bit of last place… but he created a very lovely farmland and made a really good effort! Devin was reproducing like crazy, finally achieving a 6th dwarf and a room in his house for a 6th dwarf! All of those extra turns, in combination with his donkeys in the mines, which allowed him to pay less to feed his massive family, was a recipe for success! CONGRATS to Devin for the win!
So, what did it feel like being a cave mining dwarf? I had some measly harvests… I'll be honest. Many times, I was afraid that I wouldn't be able to feed my meeple spouse and our single offspring. It was difficult to get enough done in one turn, in one round even because there's just not enough workers on payroll and not enough hours in the day. Should I farm? Go on adventures? Should I purchase livestock? Maybe go into ruby mining? Or spruce up my abode? I finally found my calling in mining ore, which really pumped up my victory points toward the end of the game. It was my unexpected change of plans, halfway through the game, which I think was my downfall. Would I give cave farming another try? Absolutely.
I liked the theme of the cave mining dwarves. I liked the game components: colorful, wooden meeples, sturdy cardboard tiles & game boards. I was slightly overwhelmed by the rules… I had my sheep nicely corralled in a fence only to be reminded that a dog can guard 2 sheep on a farm tile rendering the need for a fence moot, unless you want MORE than 2 sheep. And, once I thought that I had figured out how much food each dwarf needed to eat at the harvest, we got to a point in the game where there may be a half harvest OR a full harvest, but it remains a mystery until the token is flipped over. I understand the reason for adding some unknowns, which adds to the re-playability factor, but it adds to the "I'm-a-first-time-player-of-this-game"stupor; it's a thing, that's what I'm calling it!
Even though, I didn't feel as though Caverna offered anything greatly different from it's sister game, Agricola, I would definitely play it again. To me, the challenge for either game lies in the very strict management of your time and resources, AND going into the game having a really good idea of what you would like to do. Is that a guarantee that everything will work out perfectly and you'll get your fairytale plan A? Probably not… So, have a plan B and C on standby! Flexibility is key for if/when plans fall apart OR a different plan ends up looking much sweeter.