King of Tokyo is one of my family's favorite games! It's a fun, colorful, fast paced, dice rolling game in which all players are monsters, mutants, and/or robots causing destruction to each other as they try to kill off other players, earn victory points, heal their own wounds, and gather energy cubes to purchase upgrades, knowing that there can only be one King of Tokyo… The first player to accumulate 20 victory points OR the last person standing is the winner! As cutthroat as that may sound, the colorful cardboard characters make the game seem more playful than menacing…
There are currently two expansions available for King of Tokyo:
The Power Up expansion adds evolution cards to the game, as well as, an awesome panda character, Pandakai!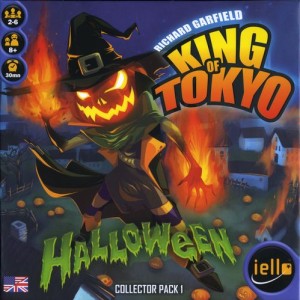 The Halloween expansion adds even more unique evolution cards, plus adorable costume card upgrades, 2 new characters (Boogey Woogey & Pumpkin Jack, plus orange-and-black dice).
While our family has been pleased with all that King of Tokyo has had to offer so far, we were head-over-heels excited upon the release of King of New York, a stand alone game with new characters, new rules, a new board, and new cards!!!
This is how it played at Tabletop University:
Our cast of Mutant Monsters –
Robot Rob played by Corey
Drakonis played by Gregg
Mantis played by Abi
Captain Fish played by Thane
Kong played by Thomas
Sheriff Dino played by Tram and myself
Each person chose their preferred monster and placed it on the game board in one of the Boroughs (Bronx, Queens, Brooklyn, and Staten Island). To begin with, there are no monsters in Manhattan. Plus, there can be no more than 2 monsters in any one borough at a time.
Each player gets to roll the dice 3 times choosing which dice to keep and which to re-roll. Note: a player is not required to roll all 3 times if that player is satisfied with his results after the 1st or 2nd roll.
The dice must then be resolved. A player may earn energy cubes based on the number of energy dice rolled, may cause damage based on the number of attacks, may heal based on the number of hearts; same rules apply to hearts and attacks as in King of Tokyo meaning that, in New York, the monster who resides in Manhattan damages all monsters outside of Manhattan, while all monsters outside of Manhattan deal damage only to the monster who resides in Manhattan. Once a player takes damage, while in Manhattan, they may decide to leave. The player who caused that damage must then go in. And, hearts do not heal monsters in Manhattan….
New dice in the King of New York game include: Destruction, which causes damage to a building or unit tile that is in a monster's borough. When buildings and units are damaged, they provide bonuses like extra energy cubes, hearts, and/or victory points. Once a building has been destroyed, then it's flipped over to it's unit side which may have jets, tanks, or infantries on it. Units are now preparing to attack any monsters in their borough… which leads us to the Ouch dice…
Yes, the dice are named Ouch dice, and look like cracked skulls… when you resolve your dice with 1 ouch die, ALL units in your borough attack you causing 1 damage each… resolving 2 ouch dice means that ALL units in your borough attack ALL monsters in that borough (bad news for you and your enemy)… resolving 3 or more ouch dice means that ALL units in ALL of the boroughs attack ALL monsters on the board according to borough (horrible news for you and all of your enemies)…
The bright side, is the Statue of Liberty card, who comes to life when a player has rolled at least 3 ouch dice. The Statue of Liberty attempts to make that seemingly unlucky player feel a little better by giving him 3 victory points that are valid until someone else may take the card away, at which time, the 3 victory points are then deducted and given to the new commander of the card. It can be a fleeting, temporary consolation prize OR it just may help you win the game depending on the circumstances?!?
The Celebrity dice may earn you the Superstar goal card if you roll at least 3 stars. You would earn a victory point for those 3 starts plus an additional point per additional star, PLUS you gain a victory point for each future star that you roll while in possession of the card. I have earned this card in past games and LOVE it! It can really help accumulate victory points quickly, as long as other covetous players aren't plotting to take it from you!
The last big difference between Tokyo and New York, is the movement into the major city. With King of New York, the first player must move into Manhattan at the end of his/her turn. That player receives 1 victory point for entering. However, if he begins his next turn in Manhattan, then he receives an additional victory point AND 1 energy cube for staying in. If that same player chooses to stay in Manhattan again (or is required to stay) then his character moves up one space in the borough. At the beginning of his next turn, the bonus increases to +2 victory points AND +1 energy for staying. The third and final movement/stay in the Manhattan borough will earn a player +2 victory points AND +2 energy, which is a pretty sweet deal if arranged properly!
Our group caught on very quickly and started stomping all over the board! It seemed like each player may have a different goal for their maiden battle. Some were stashing energy cubes to purchase upgrade cards, some were annihilating buildings for bonus goodies, others were trying to damage opponents. It's always nice to see a little bit of everything happening during the game!
The only issue that wasn't being promptly addressed was the build-up of unit tiles in the boroughs… Poor Rob the robot and his human counterpart, Corey found out the lethal way that leaving armed tanks unchecked in your borough may cause your sudden downfall and untimely death when other players roll Ouch dice… sorry man…
The other thing that may go unchecked until a group has ventured well through half of the game is the unexpected ruthlessness of certain characters who are aimed to kill…. Tram's and my character, Sheriff Dino, was buzzed down by the relentless attack of Mutant Mantis… Our little gold star badge and tiny bucket hat were no match for Abi's blades…
Opponents were slowly but surely eliminated from the game until only two were left standing: Kong versus Mantis… You've gotta watch that little chainsaw wielding menace, ahem, I mean keep an eye on Abi, who turned out to be quite a competitor AND…
THE KING OF NEW YORK!!! Congrats, Abi!
For our second game, the cast of characters changed only slightly:
Captain Fish played by Thane
Mantis played by Abi
Sheriff played by myself
Drakonis played by Gregg
Rob played by Corey
Kong played by Shawn
The big theme for this second game was: Who can steal the Superstar card and hold on to it??? Shawn (Kong) really wanted to be the Superstar, not only for the promise of bonus victory points that it boasts, but also for some deep seated reason unknown to all… even himself…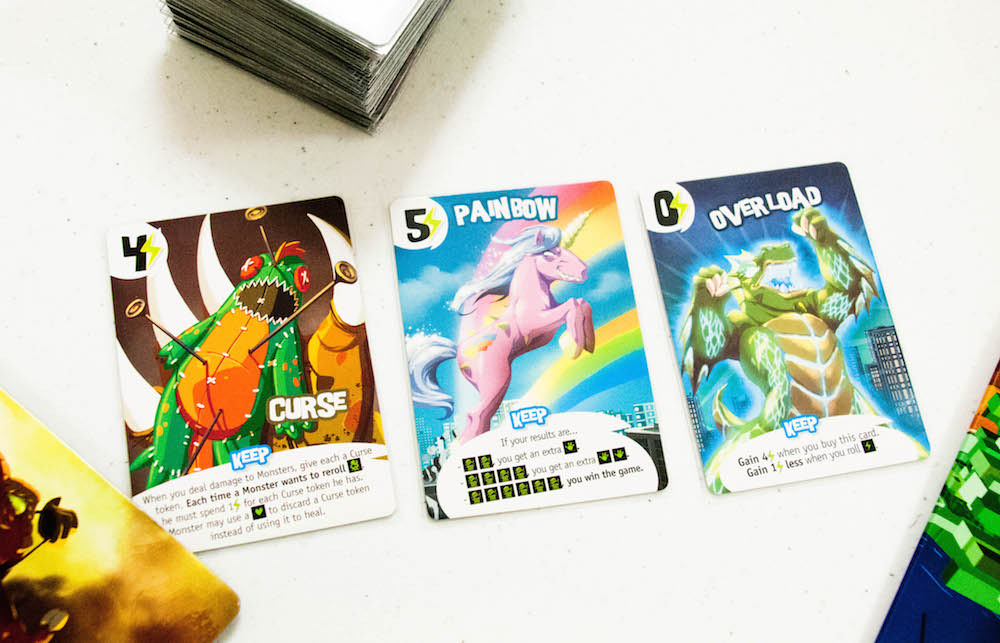 I (Sheriff) really wanted the Painbow card to skillfully attempt an epic win of rolling all destruction dice in one turn, but alas, my plan was thwarted as Corey (Rob) bought it vengefully, right out from under my nose, all because I may have photographed his earlier tragic demise (from game one) when his character was being rampaged by army tanks…
And then, because Corey's character, Rob, was attacked and AGAIN untimely killed… we lost the Painbow card for the game. Boo…
I was able to exact revenge on Mantis (Abi) though! MUAHAHAHAHA!!!!
Only to fall victim to the vicious Drakonis…. So anticlimactic for the Sheriff…
During this game, Captain Fish (Thane) bought and used a curse card, which allowed him to curse players whom he dealt damage to. It was excellent to see the curse tokens being used and to witness the effect of the curse card on the unfortunate players who received one. The curse required that a player spend energy cubes to re-roll ouch dice and to expend hearts in order to cancel the curse.
In the end, it was Shawn (Kong) who reigned supreme and won the title of KING OF NEW YORK!!!! Congrats, Shawn! He was so ecstatic that he did a little victory lap around the store!
It was a great night of dice rolling, monster fighting, unit destroying, mutant defeat, and mutant victory!!! King of New York is just as much fun as King of Tokyo! New York offers a bit more challenge and a few more options when rolling the dice. Would I rather play one over the other? Not really! Both will continue to see our table as we can enjoy BOTH of these games as a family!