Paul Peterson's game, "Smash Up" is one of my favorite games to date! The game consists of decks of cards that represent many different factions: dinosaurs, robots, aliens, ghosts, cyborg apes, time travelers, zombies, wizards, etc., etc.; each with their own unique minions and special abilities/actions. A player randomly chooses two factions and then shuffles (smashes) them together in order to do battle with the other players' smashed up decks.
With three separate expansions currently available, and a new one being released later in the year, this game takes on even more fun and playability. My favorite expansion, so far, has been the Science Fiction Double Feature which includes cyborg apes, time travelers, shapeshifters, and super spies.
Last night, after the random draw, we had a battle between:
Robot Cyborg Apes
Ghost Time Travelers
Ninja Spies
Pirate Bear Cavalry
Minions have a certain level of power (located in the top left hand corner of the card) and are to be played on bases in order to try to "score" those bases; the level needed to score a base is located in the top left hand corner of the base card. The Nukebot (above) is worth 5 points, the Jumper is worth 2, and the Ninja Acolyte is also worth 2. So far, as an example, the players here have accumulated 9 points toward scoring the Temple of Goju, needing a total of 18 to score that base.
What happens when you score a base? Victory!!! The three large numbers across the center of the base card indicate how many victory points will be awarded to the first, second, and third players with minions on that base. Many times, the person with the highest total of minion power wins first place victory points (first number on the card), but you have to be careful because every once in awhile, a base will give more victory points to the player coming in second place, or as is the case with the Rhodes Plaza Mall, the player with the most minions on this base, when it scores, reaps the benefit by receiving one victory point for each minion there. So, even though the scores on the card are listed 0 – 0 – 0, if I can manage to play 6 minions on that base, I get 6 victory points, if I play 8 minions, 8 victory points, so on, and so on.
Goal of the game: be the first person to earn 15 victory points
Last night, right out of the gate, minions were flocking to the Rhodes Plaza Mall, including my cyborg apes! Also, right out of the gate however, my apes were congenially despised (I say, congenially, because this is just a fun game after all) for their special ability to stack actions and accumulate extra power… Because of this, they often ended up being kidnapped and moved to other bases by the Pirate Bear Cavalry faction, as well as, having assassination attempts on their lives by the Ninja Spies faction. All in the name of a good battle, mind you! Bring it on!
The Ghost Time Travelers were trying to find their sweet spot by balancing the abilities of the time travelers with the promised abilities of the ghosts (if and only when the ghosts had two or less cards in their hand). Sometimes finding a balance can be tricky. But rest assured, Katie, with all of her detail-oriented awesomeness, figured it out!
New player, Jason, ended up with a sneaky, powerful mix of surveillance and espionage with abilities that allowed him to peek at cards from our decks, and from his own deck, that hadn't been played yet. He could rearrange the order of those cards on a whim. He also had the power of assassination – don't get on his bad side!
Gregg's pirate bear cavalry were tough to work around as well… The pirates were often times up to no good, destroying other minions or kidnapping them, and eluding the discard pile entirely by moving around at the last minute after scoring bases. And, who knew that the cub scouts in the bear cavalry could be so vicious killing minions of power 3 or less??? Gregg smirks, "Always be prepared!" the cub scout motto.
Round One went to Jason! Congrats!
For round two, we added The Obligatory Cthulhu Set expansion for a battle between the boys. Each player chose one of the Cthulhu decks and smashed it together with another deck from the base game or from one of the other expansions. In order to have a fighting chance, it was necessary for each player to have one of the Cthulhu expansion decks, otherwise, he/she would most definitely be consumed by madness having no means to cope with or combat it…
This expansion does introduce the Madness deck which can help and hinder based on your faction's abilities. At the end of the day, if you have Madness cards in your hand you will be penalized accordingly…
The contenders for round two:
Ghosts at Miskatonic University
Pirates and Elder Things
Wizard Minions of Cthulhu
Aliens at Innsmouth
While the guys were battling madness and elder things, and while they were sabotaging bases….
Katie and I were battling it out amongst ourselves! Katie played the Dinosaur Cyborg Apes and I played the Steampunk Tricksters.
King Rex made an early appearance in our game and I immediately thought, "I'm doomed!" With his high point value, he almost always monopolizes whichever base on which he camps out. Katie and I battled back and forth, cycling through bases pretty quickly, and tallying up the same number of victory points.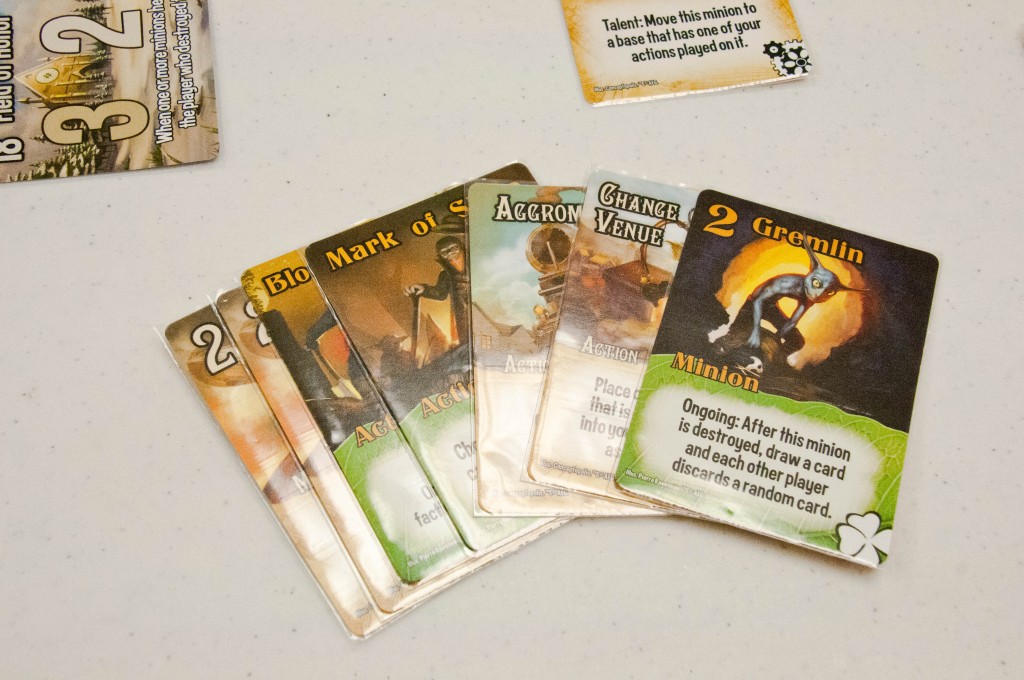 At the end of the game, I surged ahead (barely) and pulled out a win! I was skeptical that this smash up would work well together, but I was wrong! Steampunk Tricksters are an awesome match!
Apparently, the Pirate Elder Things, under Curtis' command, are an awesome match as well because they pulled out a win at the guy's game with the Cthulhu expansion! Congrats, Curtis!
We had another fun-filled night teaching/playing for Tabletop University! Smash Up is one of my go-to games when I'm looking for a light-hearted break in my day. The characters/factions are each so unique and interesting that half of the fun of the game is choosing your random factions, smashing them up, and facing the challenge of balancing their abilities to your benefit! The other half is using those abilities to the detriment of the other players…. hahaha! All in the name of a good battle, mind you! Bring it on!