We spent our entire weekend at Wichita's first ever board gaming convention – Tsunami Con! We spent the bulk of it in the Dungeon… and, we had a magnificent time!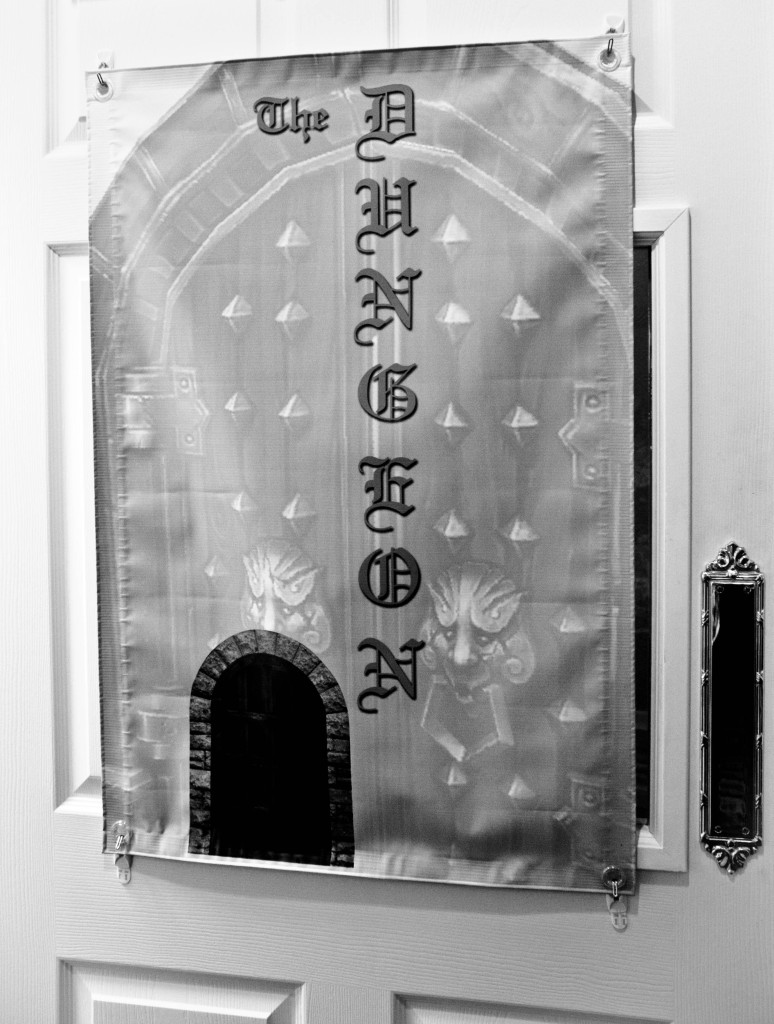 The convention opened at noon on a Friday. As Gregg and I walked into the Dungeon, i.e. Room of Game Demos, there were already people set up and playing games! Awesome!
We quickly set up the table with our fancy new banner, some information about who we are & what we do, laid out some buttons, and displayed plenty of games!
Then, we PLAYED…
and PLAYED…
and PLAYED…!!!! We taught attendees how to play some of the games that we brought, like Survive: Escape from Atlantis, Takenoko, Smash Up, and Abyss.
We also brought along this game, Pompeii, to learn on the spot. Luckily, a board gaming buddy, Jason G. had already played it before, and was able to make the learning process go along much quicker!
It turned out to be a quick, easy play, but beware of the omen cards that allow other players to throw your meeples into the active volcano…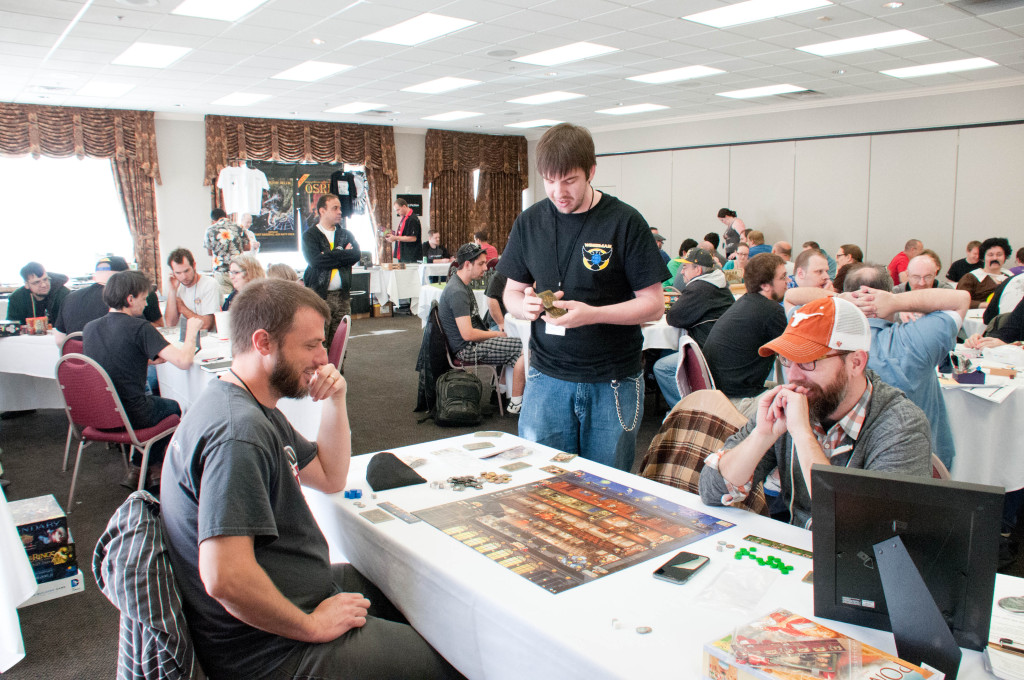 Jason G. was available throughout the weekend to teach us how to play some of his games like, Rococo, where we learned to "build" dresses, as the guys liked to say. No dress designers at our table… only builders!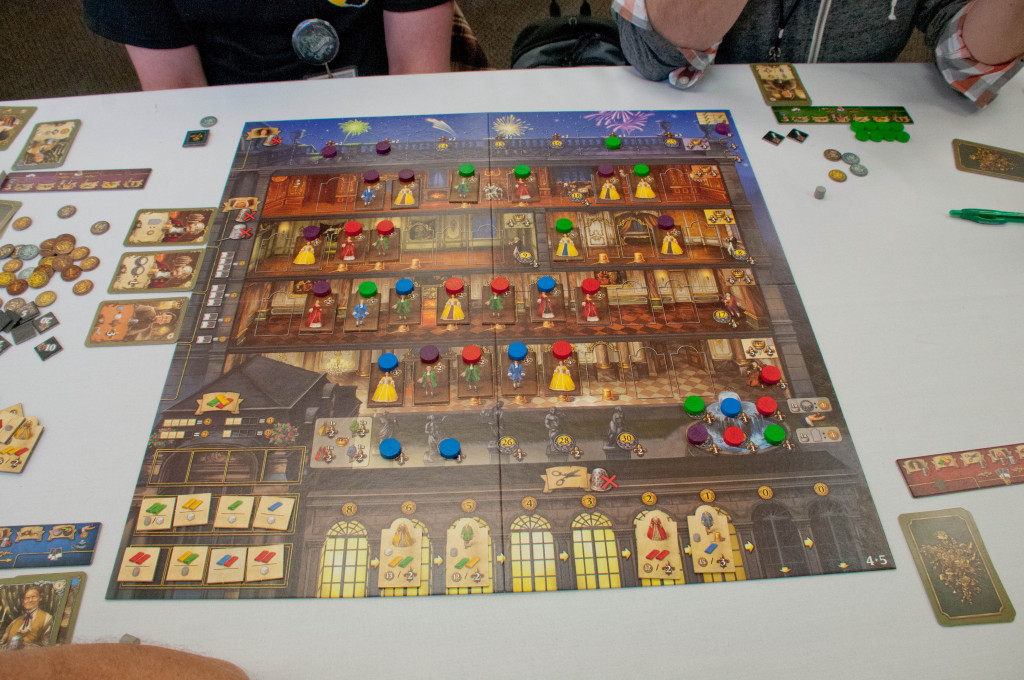 So many options, with so many rules, but still a lot of thematic fun!
The best dress builder on Saturday morning was Todd!!!
Jason also taught us to play Rhino Hero, which turned out to be a nerve-wracking good time. It's basically like building a house of cards with a pudgy little rhino moving from floor to floor. The cards dictate how you must build the floor. As long as you build your floor appropriately, and lay a roof on top without knocking over the card structure, then you are successful and get to breathe easy while the rest of your competitors take their turns!
Don't bump the table! Don't make a sound! Everybody hold your breath!
Or this may happen…. the card house, along with the super hero rhino, came tumbling down…!
We had some LCG tables for games like DoomTown and Conquest with our resident specialists, Curtis and Todd.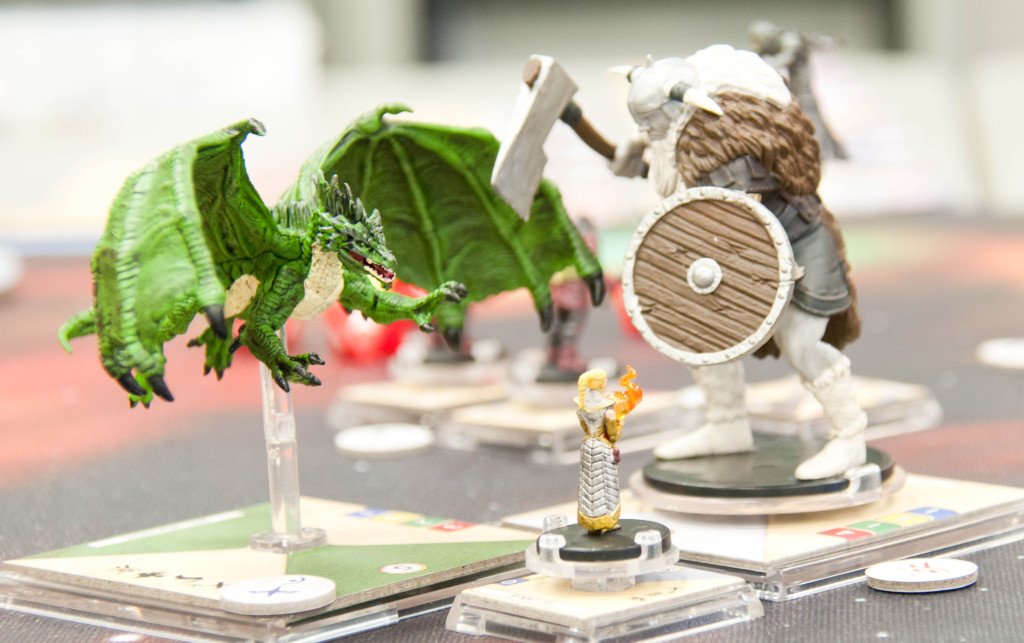 And, we even had some miniatures games going as well! Excited to be investing in this game from the very beginning, Curtis and Gregg play D&D Attack Wing! Dragon versus Frost Giant in an epic battle!
Entirely for the fun of it, Gregg & I tried painting some minis late Sunday afternoon…. Reaper miniatures provided free Bones miniatures and free use of their master series of paints. Why the heck not, we asked?
Then we sat down to paint and realized why we leave this job to the experts…
Both Gregg & I could see how this hobby could easily become addictive though. It was a good experience!
We were all excited for brothers, Sam & Tim Mayo, of Solid Fiction as they demo'd their game, Mage Codex, for attendees all weekend, and hosted a tournament, AND launched their Kick-starter campaign to raise funds to publish the game!
We were also very proud of Zach W. and Dominic G. who are in the working processes of creating & designing their own games!
One of the coolest things about the board gaming convention, ASIDE from PLAYING GAMES, was being able to spend the weekend with board gaming friends!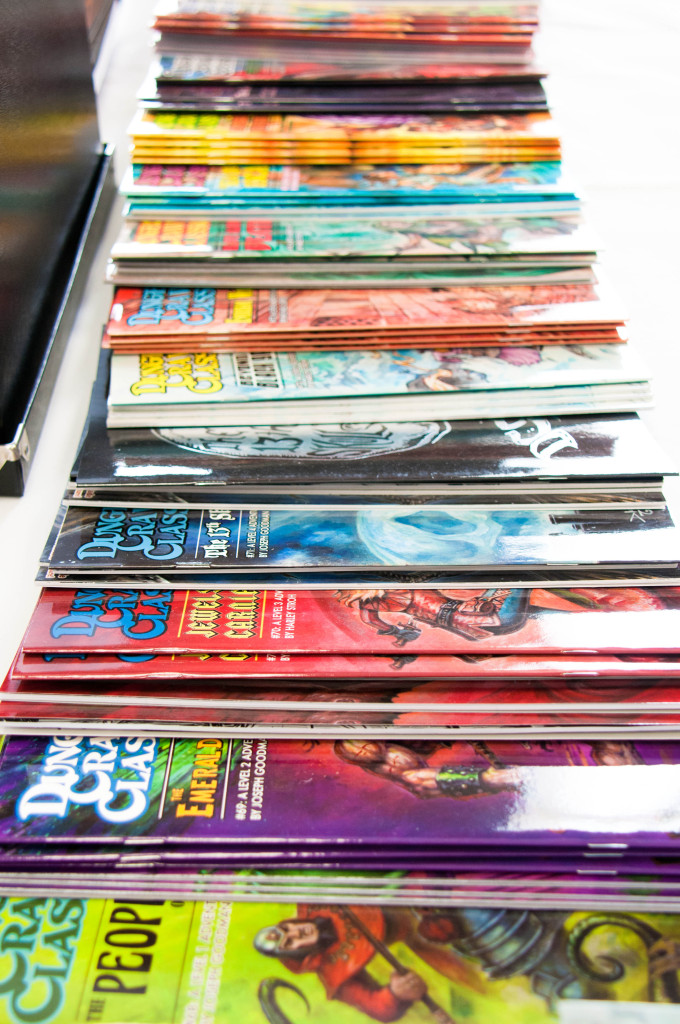 Some places at the convention that I did not get to frequent included the Market Place, where vendors set up to sell merchandise such as dice bags, books, jewelry, games, paints, and more.
The Commons hosted panels, housed the entertainment, and held the opening and closing ceremonies.
Mikey Mason was the comic relief, just in case you lost one too many games in a row, possibly rage quit, flipped the table, and needed a place to stalk away…! Just kidding! But, that would've been a good excuse to tear yourself away from the Dungeon to partake in other convention activities.
And the War Room was set up for tournaments. I believe there were tournaments for the following games: Ticket to Ride, Zombie Dice, Star Wars X-Wing, and Star Wars The Card Game.
I was happy to be at Tsunami Con for all of it's game playing extravaganza!!! I was pleased to represent Cardboard Carnage (bringing Wichita gamers together, building a strong gaming community) and Tabletop University (teaching new & experienced board gamers alike how to play a vast variety of games, showing non-gamers just how much fun it is to play)!
We can't wait until next year…. but until then, make sure you participate in gaming in Wichita!!! Be it board games, LCG's, miniatures, card games, RPG's…. find a group and PLAY! Cthuluhu commands it!